Implementing new software can be as easy as downloading an app on your phone. What gives with Enterprise Software? Why does it seem like great software ideas die on the vine or get underutilized?
Of course, its easy to toss one of these diagrams up and call it a day. Have a solid product, know how to get the data you need to make it work. Maybe a couple of nice bubbles steps you need to go through before its saving your company millions if not billions, right?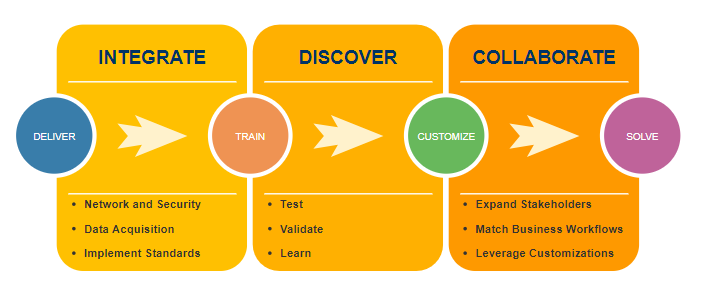 However, as its easy to experience in the renewable O&M Industry, as well as any other corporate institution, just because its SaaS or "in the cloud" doesn't mean the software is adding value in a meaningful way.
Software is a tool not a solution
Software empowers opportunity. Opportunity is to be seized. That takes effort from an ever-expanding number of stakeholders to allow more collaboration, integration, buy-in and champions of improvement.
How do we do this? Pay attention to the ingredients for success at turning a nice bubble diagram into value.
User Adoption as a Service Goal: Find people and software companies focused on solutions not requirements.
Flexibility of Product & Service: Gravitate towards software and teams that can answer yes we can.
Desire for Improvement: Who is the internal champion for improvement even when a consultant is there to help
Organization Led Customizations: Build a process that fits the organization, don't wait for a magic button.
Turn the myth into reality
One of our North American Utility customers exemplifies these ingredients has been able to leverage EnOS Bazefield software to create value via three main activities. Combined internal champions with efforts of software team and AP Renewables consulting to complete these three steps. This translated to meaningful user adoption of a software solution throughout multiple groups of the company, resulting in that over advertised value-add.
This customer has a belief that it wants to stay ahead of trends, not only opted for a central data system, but integrated the data in its value chain. An integrated part of extracting value from the new tool, was to partner with AP Renewables to look at the operations process and identify where more data is needed and what this data should look like. Then the tool was customized to deliver the right data the right stakeholder in the process.
Annndd for the nice bubble diagram…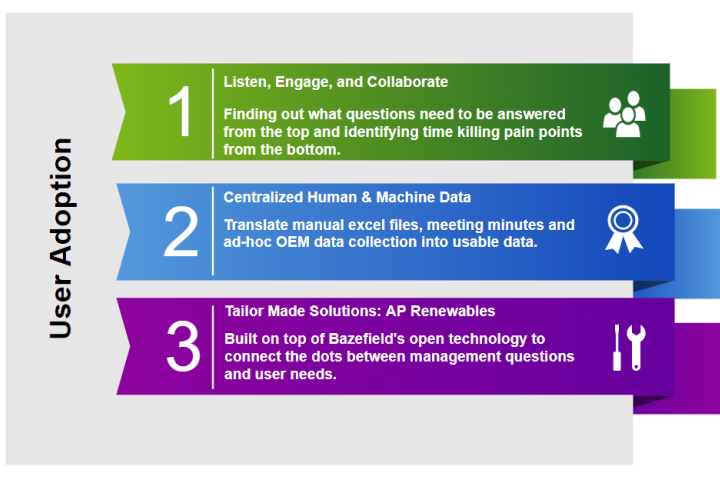 by Benjamin Whitt, Director of Services, Bazefield Americas
---